Our Communi-Tea Cafe and loungeoffers a safe place to come and enjoy great value refreshments, and the opportunity to connect with the community. Not only that, all our profits from the cafe go back into supporting the health and wellbeing of our community.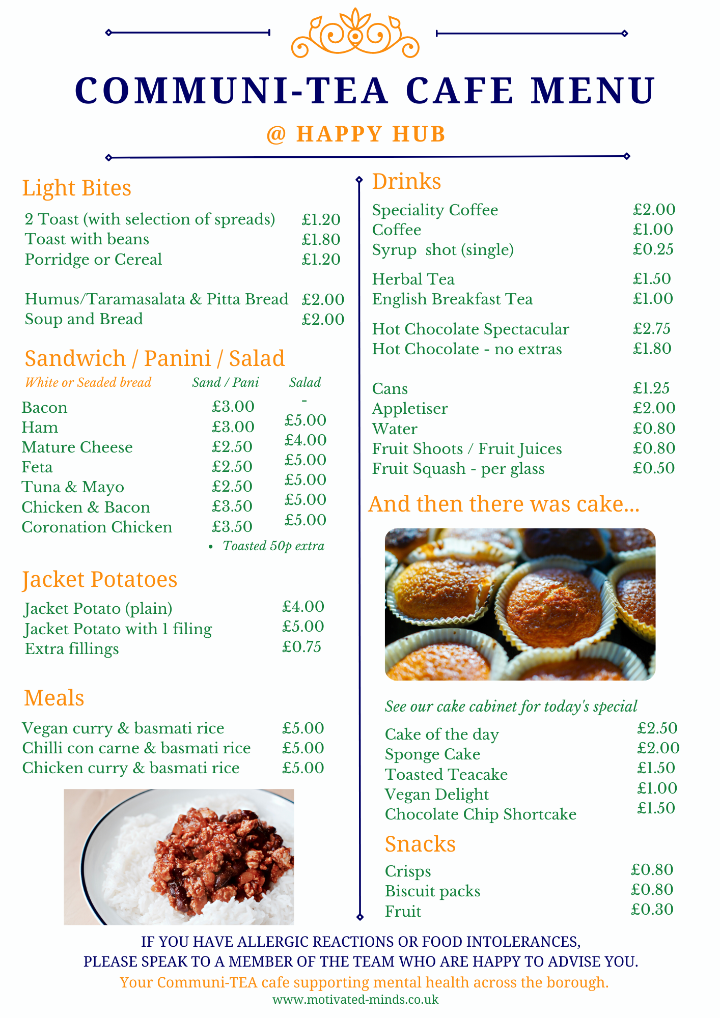 Open Monday to Saturday 10am to 3pm, our Communi-TEA cafe and training kitchen is led by Sandie, who heads up a team of dedicated volunteers. Sandie has recently trained with Jamie Oliver's very own Ministry of Food, and also runs our cooking workshops.
The cafe offers a simple, affordable menu, priced to ensure our customers can get out of the house, meet new people and afford a cuppa, sandwich or cake. We also support children who attend our provisions with a hot meal. Furthermore, we operate a pay-it-forward scheme whereby members of the public looking to help other, can do through us.
01268 520 785 / admin@motivated-minds.co.uk
HAPPY Hub, Eastgate Shopping Centre, Basildon, Essex, England, SS14 1AE.
Motivated Minds Trading as Wellbeing 4 Life CIC. Company No.: 9423090 © 2021
VAT Reg. No. 337 7894 47