Couch to 5km Walking Plan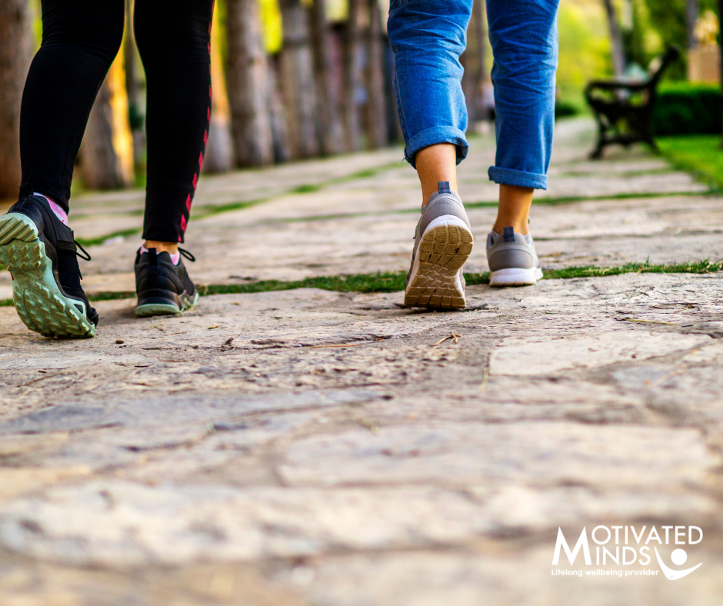 The most important step you will take on this plan is the first step out of the door. After that, it's just a case of keep going!
So how can you get from Couch to 5km in just 6 weeks? Start today, don't delay. Lace up your trainers and head out the door for a comfortable, easy paced walk. The trick is to make this your new daily habit, walking is good for your mind, as well as your body, so here's some top tips to consider before we get into the nitty gritty of time and distance:
Make a playlist of your favourite songs. Music will motivate you to keep moving, it will help take your mind off the walk and you can even use the beat of the music to pace you (so maybe don't add those Ibiza Club Classics to your playlist until you're feeling the need for speed!)
Listen to an audiobook. If you don't get time to sit and read then here is your solution. Lose yourself in a romance novel, or download a powerful self help book to motivate you on your walks. You'll soon look forward to getting out the door as with a good audiobook you'll be desperate to start the next chapter....
Make it social. Meet a friend and walk and talk, or join us at one of our Walks 4 Wellness. You'll be amazed how much quicker the miles go when you have good company.
Take Notice. Mindfulness is fantastic for your wellbeing but we don't often get chance to stop and take notice of our surroundings. While you're out on your walk take a look around, notice the change in season, the birds, bugs and flowers. You'll be surprised how many beautiful colours you'll see once you start looking! Heading out at dusk is great for chasing those beautiful shades of orange in the sky! You might even want to stop and capture some photos!
Make it enjoyable. First, enjoy your walks. That's what will get you out the door time and time again. Choose a comfortable pace, and a distance that doesn't tire you out. When you do this consistently THEN aim for progress, but just a little at a time. Repeat week one as many times as you need until you feel ready to progress.
Slow progress is still progress. You might be tempted to push too hard too quickly, but this is a recipe for disaster! If you're walking for 10 minutes a day, don't then double it! Add on a little, or if you can't add on as much as the plan suggests then just walk to the next lamppost, and push for an extra lamppost every time you head out the door. Eventually, over time, these extra steps add up so play the long game because pushing too hard too quickly is likely to either result in injury or fill you with pre-walk anxiety, but little improvements over a long time are easier to manage, and soon add up! Remember the guidelines are just that, a guide. Take things slower if you need too, just keep putting one foot in front of the other- that's what matters.
Get the right socks and shoes. You might not think you have an issue with socks and shoes, those pumps might not cause an issue around the house or at the shops, but as you increase your speed and distance and your feet are pounding those pavements, you may start to feel discomfort if you do not have supportive footwear. Sports socks, especially anti-blister ones, will help evaporate moisture and keep your feet dry while walking and good quality sports trainers will offer the right support for your feet. If you are keen to get active but cannot afford new footwear, get in touch, we may be able to help!
Track it! A step tracker can be a great way to monitor your progress. As the weeks progress you'll see your step count get higher and higher and this can really boost motivation! A 5km will take the average adult walking at a brisk pace around one hour to complete and can clock up around 7k steps. So to complement your training why not focus on getting that step count up across the whole day? Set an hourly alarm and take a one or two minute walk break on the hour every hour and help your body move more across the day, it all adds up after all! If you think a fitness tracker would help you get active but you can't afford one, get in touch, we may be able to help!!
Don't Quit! You'll start off motivated but that will fade. There is no magic potion, no easy way to get to where you want to be, just determination to succeed. So when you feel like skipping a walk, DON'T. Repeat to yourself, "I've got this, I'm getting it done, when I go to bed tonight i'll look back on the day and be so glad I did it."
Know when to rest. "But you just said don't quit?" - There's a difference between skipping a walk because you can't be bothered, are distracted, or are prioritising other things, and choosing to rest because your body needs it. Only you know the difference and it's really important to listen to your body. Don't make excuses for falling off plan BUT do cut yourself some slack. If you're injured, exhausted, or facing a crisis that takes your time elsewhere, then skipping one walk won't hurt. The key is to get back on plan AS SOON AS YOU CAN. Before choosing to skip a walk though could you make an adjustment? If you're tired how about a slower walk, covering less distance? Or choosing to park the car at the furthest point of the supermarket car park and then taking the stairs when you get chance to help get some activity into your day? It doesn't have to be all or nothing, sometimes you can find a middle ground and that's more than okay!
So what's the plan?
Well we don't know what your current fitness levels are, how old you are, or how active you have been, so this is just a guide*. What is important is that you adjust it accordingly, and remember, NO WALK IS A BAD WALK, so if you set out to do 20 minutes but have to stop at 15 for rest, it's all good!!
*Please note, this plan is just a suggestion; it is important not to push yourself too hard, know your limits and make steady progress, because going too far, too fast, can result in you feeling deflated and could result in injury! If you have any medical conditions that limit you from being active then you must consult your doctor before starting any exercise programme!
The plan:
When starting a walking schedule it is a good idea to try and build it into your daily routine. Eventually you want to aim to be hitting around 10k steps a day to stay active and healthy, but it is important at this stage to ensure you have at least one rest day to recover and recharge for the week ahead. As the average adult will walk 5km at a brisk pace in around an hour, you ideally want to aim to be able to walk for 60-90 minutes (depending on your speed) by the end of the plan, but it is important to take things at your own pace.
Week One
Take it easy this week. Aim for 5 gentle paced walks that don't leave you breathless.You should still be able to talk, if you can't, slow down. Aim to walk for 15 minutes, if you need to stop half way then that's okay, maybe choose a park or open space where there are benches scattered around for a rest stop, but try not to stop for long as the longer you stop, the harder it will be to get going again!
Week Two
You now know what to expect so do the same but try adding a little more on top. You'll introduce a longer walk this week, and you'll increase your distance on the other walks too. Set an alarm for 10 minutes and turn around when it beeps, this is just an extra 2.5 minutes each way but when you get back you would have walked a further 33% (5 minutes more in total!). Do this for 4 of your walks and on the last one (preferable before your rest day), take the pace down even slower (with more stops if needed) and aim for a 30 minute walk.
Week Three
Things are hotting up and at the end of the week you are half way there so for 4 of your walks you want to push for 25-30 minutes at your regular pace. You could mix it up, one day walk faster but take more breaks, and the next try for a slow continuous walk. Variety is your friend at this stage - mix it up! For your long walk you want to aim for 40 minutes - remember this is a long slow walk so let yourself be distracted by the beautiful things around you because you have time to admire the world.
Week Four
How are you feeling? Be sure to check in with yourself and remind yourself of how far you've already come! By now the walking should be starting to feel like habit. If you're ready to step it up then you're aiming to walk for 30-45 minutes for all 5 walks. Why not try 30 minutes one day, then 35, then 40, then back to 30 again? You'll find that last 30 much easier than the first! Then make your last walk before your rest day 45 minutes, this should be around 2 miles - you're two thirds of the way through the plan and two thirds of the distance down! Keep going...
Week Five
Last big push before the final week. We're going to add in some speed sessions this week! For two of your walks just walk for 30 minutes, but intermittently push yourself so it's hard to talk while you walk. You could do a minute of fast walking and a minute of regular paced walking, or count lamp posts. Whatever you do let's get that pace a little higher, it will help if you hit any hills on your 5km challenge, or walk in windy weather. The other two walks will be 40 minutes and your big walk, 50 minutes! You've got this.
Week Six
It's challenge week! You've done more than enough, so this week let your body recharge slightly. Two easy 30-45 minute walks will keep you moving but let your legs rest ready for challenge day. The walk will take you between 60-90 minutes but you've got this! Just replace your big walk at the end of the week with your 5 km challenge.
Good luck!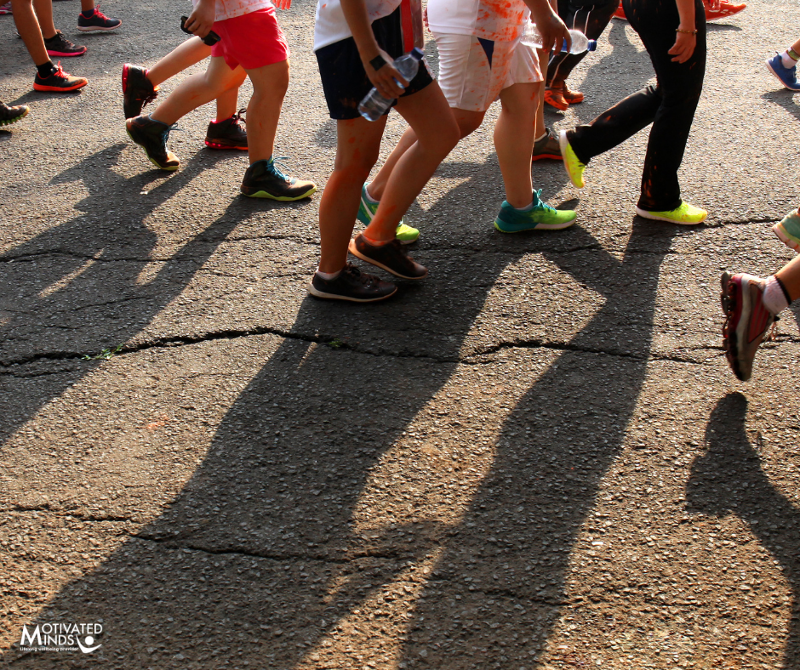 01268 520 785 / admin@motivated-minds.co.uk
HAPPY Hub, Eastgate Shopping Centre, Basildon, Essex, England.
Motivated Minds Trading as Wellbeing 4 Life CIC. Company No.: 9423090 © 2020
VAT Reg. No. 337 7894 47