In these challenging times, supporting one another is more important than ever. Our Pay-It-Forward scheme is a compassionate and inclusive way for individuals to support their neighbours and friends in the community.
The concept is simple yet powerful: those who have the means can contribute by making voluntary donations, and these funds will be used to assist individuals and families who are experiencing financial difficulties due to the cost of living crisis.By participating in our Pay-It-Forward scheme and donating to our cause, you can help create a brighter future for the Basildon community. Together, let's make a positive impact and spread hope during the cost of living crisis. Join Motivated Minds and be a part of the change we all wish to see.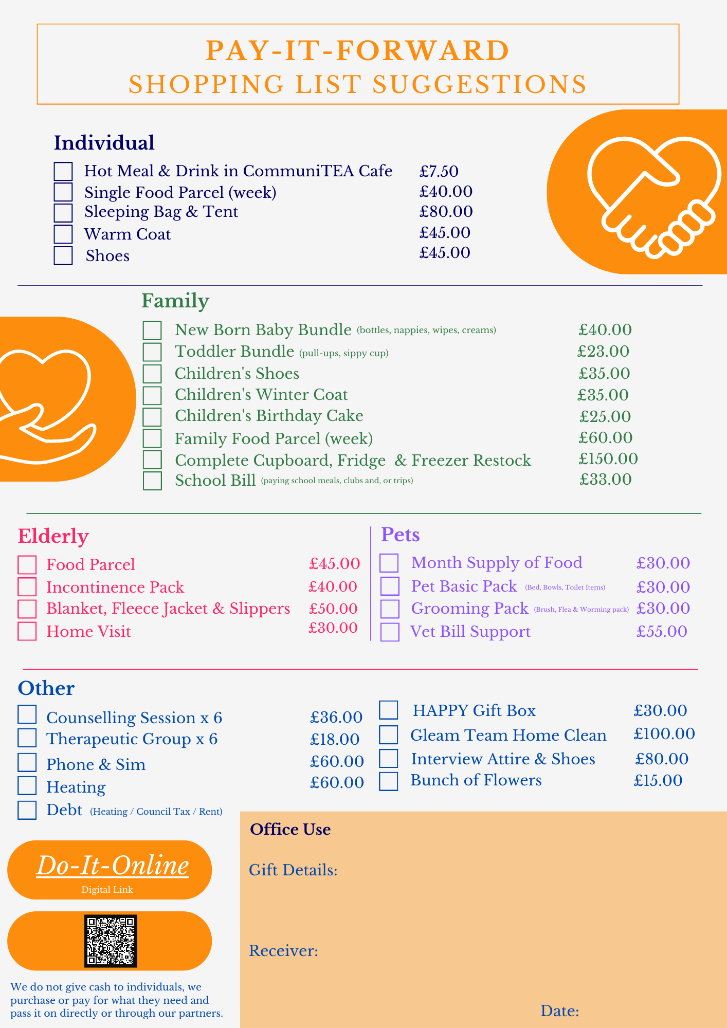 Why Should You Participate?
Helping Local Families: Your contributions directly impact the lives of local families and individuals who are facing financial challenges. Together, we can alleviate some of the burdens they are experiencing.
Promoting Community Spirit: Our Pay-It-Forward scheme fosters a strong sense of community spirit and solidarity. It's an opportunity for us to come together and support one another during trying times.
Lasting Impact: Your donations will be used strategically to address urgent needs and create lasting changes in the lives of those in need.
How to Take Part
Make a Donation: Any amount, big or small, will make a difference.
Spread the Word: Share our Pay-It-Forward scheme with your friends, family, and colleagues. Together, we can reach more people and create a larger impact.
Volunteer Your Time: If you're interested in getting more involved, we welcome volunteers who can support our outreach efforts and assist with organising community events.
"We would like to say a big thank you for the generosity extended to us in the past week, this was totally unexpected but most welcome"

- A customer of the HAPPY Hub, who was struggling.
01268 520 785 / admin@motivated-minds.co.uk
HAPPY Hub, Eastgate Shopping Centre, Basildon, Essex, England, SS14 1AE.
Motivated Minds Trading as Wellbeing 4 Life CIC. Company No.: 9423090 © 2021
VAT Reg. No. 337 7894 47