At Motivated Minds, we are dedicated to fostering mental health and wellbeing within our community. We believe that delivering mental health services at a community level is of paramount importance as we understand that mental health issues affect individuals differently. By offering services at a community level, we can tailor our support to address the unique needs of our local residents. In addition, providing mental health services within the community ensures accessibility. People are more likely to seek help when it's easily accessible, reducing barriers to entry. Furthermore. our community-level programmes help reduce the stigma surrounding mental health.
Join us in our mission to promote mental health and wellbeing at the community level. Together, we can create a healthier, happier, and more connected community.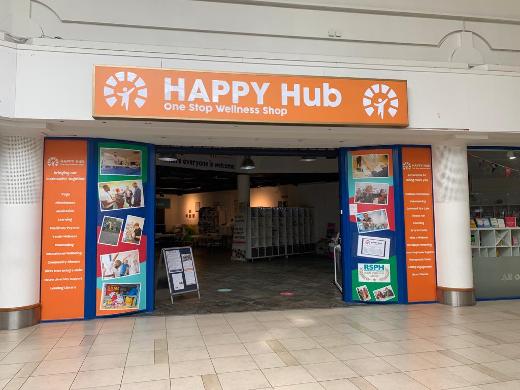 Our very own, one-stop-wellness-shop, the HAPPY hub, situated in Eastgate Shopping Centre, Basildon. Open to everyone. Click below to find out more.
Working in partnership with Human Kind, we are using their community hub to bring a variety of wellness programmes to Billericay. Until, they open their doors in Jan 24, we are working with them in the Reading Rooms, on Billericay High Street. Each week, at 10am we will bring you the Weekly Wellness pop-in, a fantastic chance to meet other providers to support your health and wellness journey.
From 12pm to 1pm, we're bringing our ever popular, EmpowerMe Reads, a weekly book club discussing self-help/growth books to open up our minds and enhance our wellness journey.
Partnering with our friends, Castledon College and their amazing student led, Poppies Cafe, we will be hosting our Weekly Wellness drop in, at Downtowner Youth Centre, during term time, every Friday 12pm - 2pm . Pop along, as we join forces with other providers to help support various health and wellness needs. Outside of term-time, we will be popping up all over Wickford, so checkout our events page to see whats happening, when.
Running 50 weeks a yesr, from 6pm to 8pm, we're supporting young people's health and wellness, with our weekly Well Youth Club. Open to all seconday school children, our staff are DBS cleared and therapeutically train to support young peolpe who are in need of social, emotional or behavioural support. £6 per child.
Walk 4 Wellness and MEN'd: Fishing are our popular programmes running out of Northlands Park, Pitsea, every Tuesday at 10am.
From 12pm join us for our Weekly Wellness pop-in, enjoy a cuppa, as well as meet other providers to support your health and wellness journey, we're at 'The Place' every Tuesday (from November, we will be in Pembrook House: Peabody Offices).
Did you know, we are working with groups of Dr Surgeries (PCN's) across Central Basildon. East Basildon, Wickford and Billericay, to help improve the overall health and wellness of residents of the Basildon Borough.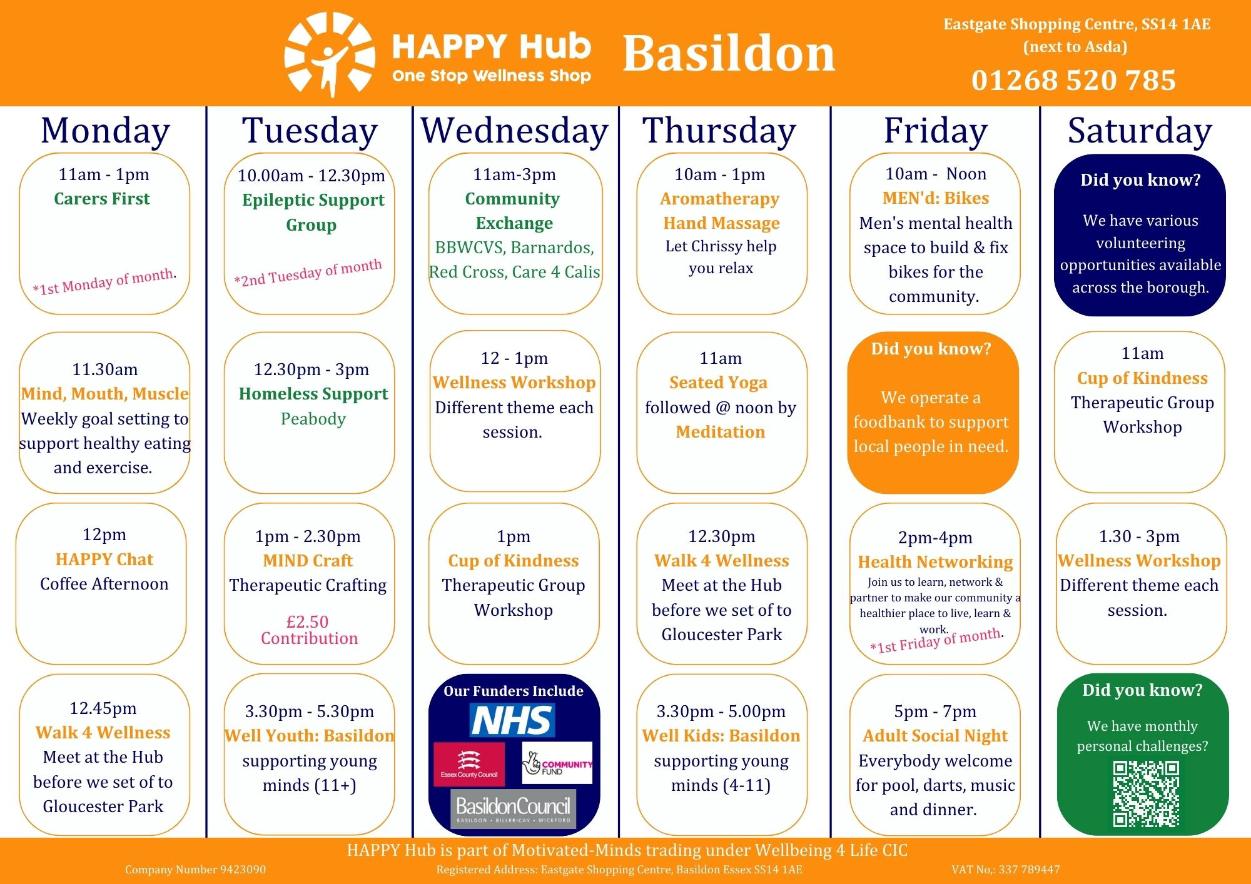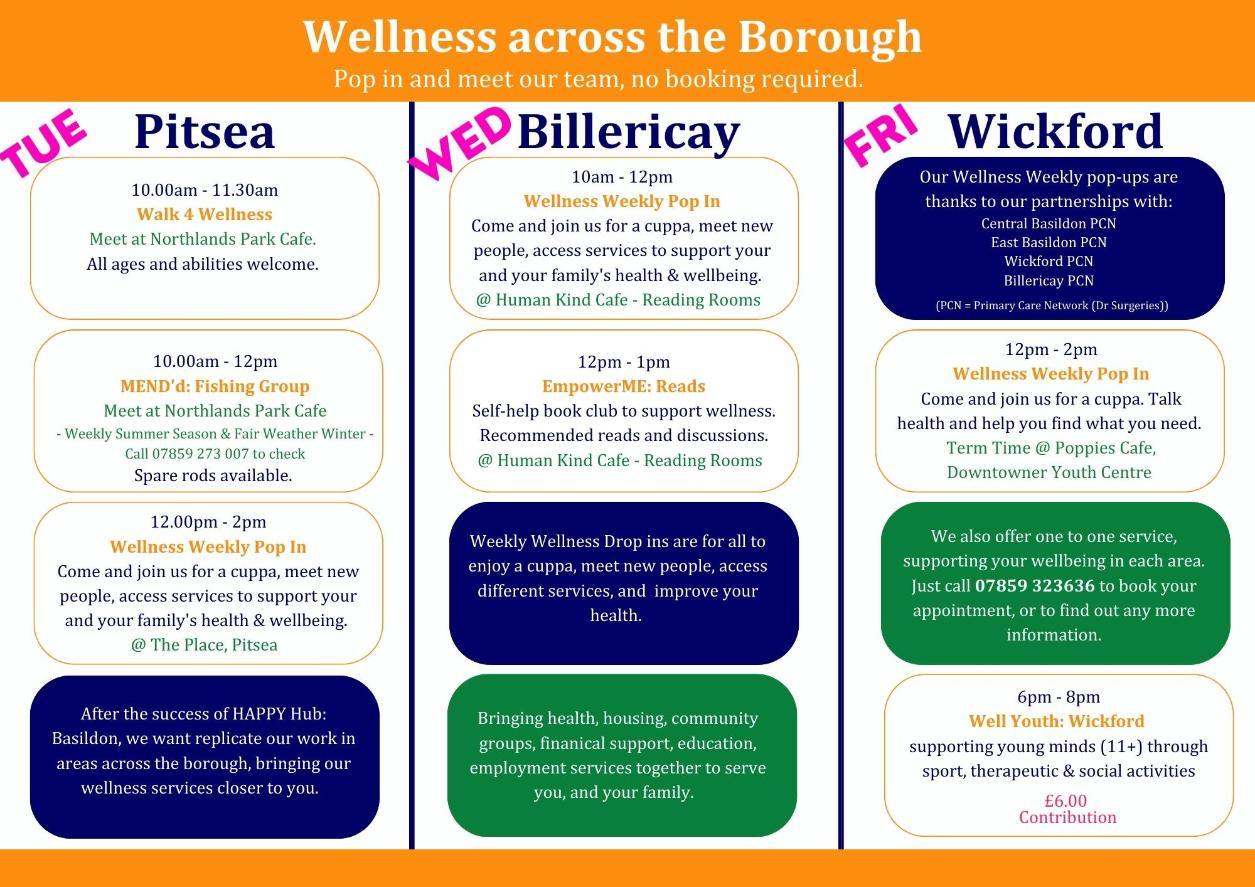 01268 520 785 / admin@motivated-minds.co.uk
HAPPY Hub, Eastgate Shopping Centre, Basildon, Essex, England.
Motivated Minds Trading as Wellbeing 4 Life CIC . Company No.: 9423090 © 2020
VAT Reg. No. 337 7894 47