Our Story
Officially incorporated as a non-profit in 2015, Carla started delivering mental health and wellness projects in Basildon, Essex. As the customers grew, so did our recognition and partnerships. Over the following years the vision of having a community wellness space and volunteer team became a reality. Our first HAPPY Hub was in a derelict bank earmarked for demolition, but it was a step toward the dream. When it was time to move Carla showcased her work to Eastgate Shopping Centre, who could see the vision and through their Corporate Social Responsibility arm gave the opportunity for a proper one-stop-wellness shop, offering instant mental health support on the high street.
Year-on-year we have grown, and Carla is now surrounded by amazing staff and a volunteer team, delivering services to over 2000 people a month in and around Essex through the HAPPY Hub, our pop-up weekly wellness events and in partnership with others.
Our Approach
At Motivated Minds, we are at the forefront of research, development, and service delivery aimed at enhancing mental and physical wellbeing. We have established strategic partnerships with esteemed institutions such as Essex University, as well as diverse public, private, and third sector organisations. These collaborations enable us to conduct groundbreaking research and provide innovative mental health and wellbeing services. One of our key differentiators is our in-house research and development capability, allowing us to continuously refine and innovate our offerings.
Impact and Recognition
Since our inception, we take immense pride in the positive transformation we've brought to thousands of lives across the UK. Our evidence-based interventions have yielded tangible results, earning us recognition through a variety of awards and accolades. Notably, we were honoured with the 'Innovation to Mental Health' award by SME and were selected as a finalist for Public Health England's 'Health on the High Street.' Our Founder and Managing Director's dedication to health has been acknowledged with both an MBE and a British Citizen Award.
Our exceptional volunteers, who play a pivotal role in our mission, have also been celebrated. They've received accolades such as the 'Community Star,' 'Inspiring Role Model,' and 'Volunteer of the Year' awards. These acknowledgments highlight their indispensable contributions to our cause.
Our Therapeutic Approach
The bedrock of our therapeutic approach is rooted in positive psychology, complemented by the framework of the '5 Ways to Wellbeing.' Our objectives to positively impact the customers life through, include:
Building a sense of hope into the customers perspective
Helping customers identify and develop their strengths and unique talents
Cultivating the customers sense of happiness and wellbeing
Increasing the customers experience of positive emotions
Helping the customer learn to savour every positive moment
Nurturing a sense of gratitude in the customer
Helping customers build and maintain healthy, positive relationships with themselves and others
Encouraging customers to maintain an optimistic and open outlook
Enhancing the customers goal-setting and goal-striving abilities
We firmly champion neurodiversity and believe in the transformative power of psychoeducation, combined with therapeutic techniques like CBT, DBT, and ACT therapies. This empowers individuals to actively manage their mental health and lead healthier, happier lives.
Our Vision
At Motivated Minds, our commitment to change extends beyond words. We prioritise innovation within our own workspace, recognising that our team's wellbeing is fundamental to our mission. Our efforts continue to create an environment that nurtures personal and professional growth.
We are dedicated to forging partnerships as a cornerstone of creating positive change. Collaborative efforts enable us to connect with diverse communities, co-design novel programs, and extend our mental health and wellbeing services to the heart of each community. Our vision includes expanding HAPPY Hubs and establishing an affiliation network, ensuring high-quality mental health and wellbeing provisions reach more communities.
Listening to Needs
We pledge to remain attentive to the needs of the people we serve and offer timely, personalised wellbeing support.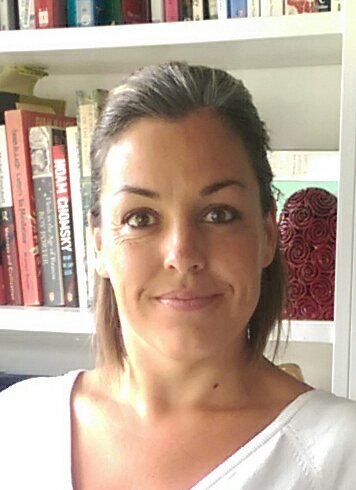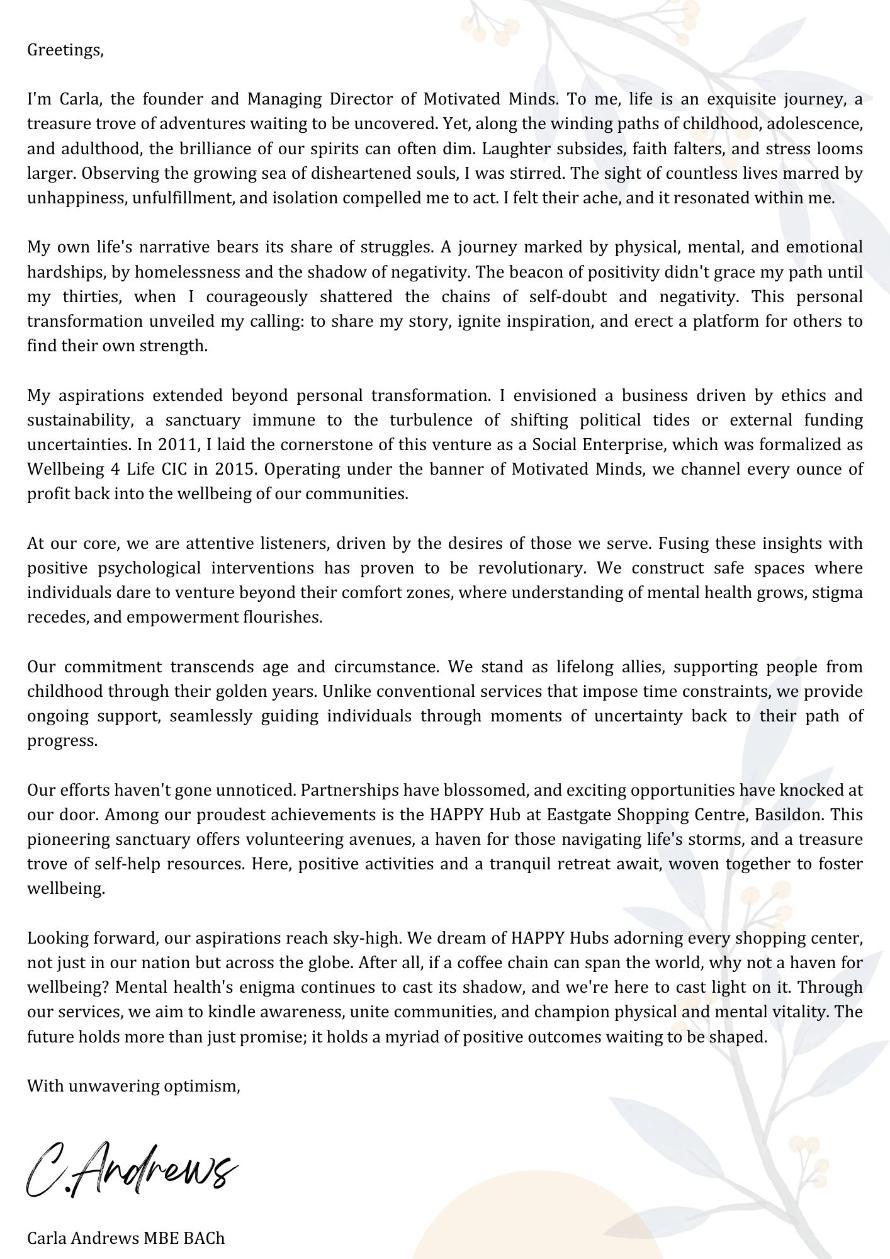 01268 520 785 / admin@motivated-minds.co.uk
HAPPY Hub, Eastgate Shopping Centre, Basildon, Essex, England, SS14 1AE.
Motivated Minds Trading as Wellbeing 4 Life CIC. Company No.: 9423090 © 2023
VAT Reg. No. 337 7894 47